Pump Outline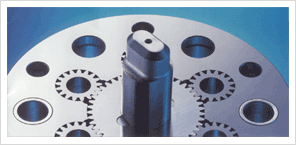 Precision gear pump has the advantage of high temperature, quantitative, and high pressure, and has been applied to textile, chemical, extruders, automatic equipment and so on.
Also, it maintains high efficiency since the failure of pump does not occur due to its simple structure.
In particular, our company has been acquiring the techniques and the Know-How of the Maker company and furthermore, we are making a domestic production so as to reduce the customers' investment (guarantee of 99% performance compared to the Maker Company).
Aside from the pump repair of other companies that we do not handle with, we are also capable of technology in processing other parts. Also we begin home production of nozzle for textile industry and water treatment (seawater desalination). Short delivery, good price, and best quality are our key factors to satisfy our customers.